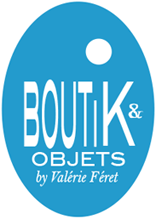 In a 300m2 space entirely renovated where industrial design blends with the18th-century architecture of Château Féret-Lambert, Valérie allows you to discover at each new session her latest lucky finds at auction houses, objects unearthed at the Salon Maison & Objets in Paris or pieces that she herself has given a second life.
At the same sale, you will find paintings by a favorite artist, small design objects, larger pieces like a table with delightfully contemporary lines, armchairs that she has reupholstered in an unexpected way... and always, a unique combination of design and tradition.
No sale is alike, and each one only lasts a few days – it's the ephemeral concept at the heart of Boutik&Objets, always arousing curiosity, always fresh.